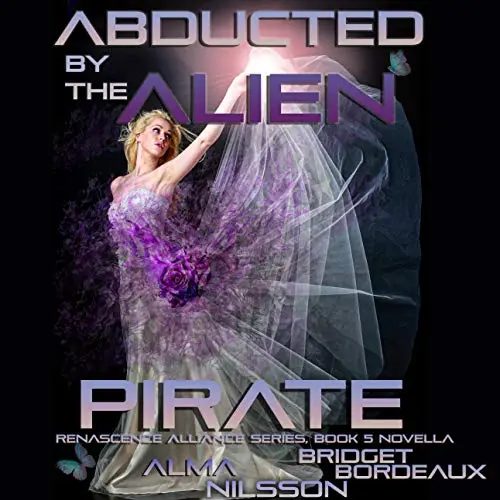 Written by Alma Nilsson
Narrated by Bridget Bordeaux
Duration 3 hours and 57 minutes
*Other titles in this series also available*
*****
Abducted or saved?
Kol is an Alliance trader and part-time pirate, but when Admiral Tir asks him to retrieve a woman from Earth, despite his reservations about abductions, he could hardly deny the future Emperor of the Alliance. Now Kol may be new to kidnapping, but he's not new to the filth of the galaxy, and this young woman has been living in one of the filthier places he had ever seen. Morally, he feels he has done her a favor in saving her from galactic poverty. He keeps reassuring her that he is taking her to a better place. Kol doesn't even begin to understand her frustration at being taken.
Jesse was walking home when a grey alien abducted her in broad daylight. Now he has locked her in a room on his starship and says that he is taking her to her sister in the Alliance Empire. Jesse hates her sister, Dru, for running away from the Exterior and now hates her sister even more for this abduction. All Jesse wants to do is return home and live her life on Earth. It has only taken her a few days to realize that tears won't work on her captor, so she is going to try her feminine wiles. She's heard humans are considered to be the most beautiful out of all the galactic species. If that doesn't work, she will try something else. One thing she is sure of, she is not going quietly to her sister or the Alliance.
Although you can jump in at any point in the Renascence Alliance Series, it's recommended you listen to Married to the Alien Doctor (Renascence Alliance Series, Book 2) or Married to the Alien Admiral of the Fleet (Renascence Alliance, Book 4) before listening to Abducted by the Alien Pirate (Renascence Alliance Series, Book 5).
WARNING: Includes explicit sexual content suitable for adults only.
NOTE: Other titles in this series also available (while codes last)
---
To request a code click on the button for US or UK region:
Click here to search for other audiobooks.
After listening, please rate each audiobook at Audible, and consider leaving a short review. Ratings and reviews help authors, narrators and audiobook listeners.