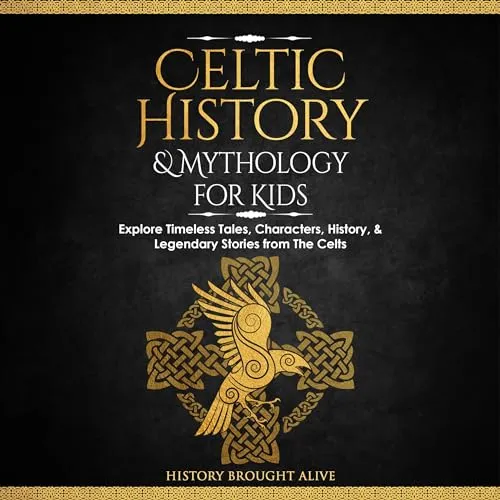 ** Reviewers Only **
This is a Review Priority giveaway. Please request a code only if you have a genuine intention to leave a review within a month.
Written by History Brought Alive
Narrated by Jack Nolan
Duration 3 hours and 8 minutes
Step into a world of ancient wonders, where brave warriors, mythical creatures, and powerful gods roam the lands!
Dive into Celtic history and mythology with this audiobook for kids!
It will help them to develop strong reading and listening skills
It will introduce them to positive character traits
It will foster an appreciation for the rich Celtic heritage
And it is perfect for introducing to children of all ages
Through vivid storytelling, history, and beautiful tales this book transports children to the misty hills, lush forests, and mystical realms….
Here, they will meet legends like Cú Chulainn, the valiant warrior, and ancient deities, such as Danu, the mother goddess, and Lugh, the god of light and skill.
Young listeners will be captivated by epic battles, quests for hidden treasures, and encounters with extraordinary creatures.
The book not only delves into mythology, but it also highlights the culture, facts, and the amazing history of the Celts.
Here is a small peek inside of what you will discover inside:
Exploring the Celtic Timeline, from Ancient Legends to Modern Wonders
Magical Rhythms and Toe-Tapping Beats: Celtic Music and Dance
Mighty Deities and Enchanting Tales: Discover the Celtic Gods and Goddesses
Explore Famous Celtic Landmarks: Stonehenge, Blarney Castle, the Cliffs of Moher, and more
Celtic Art and Symbols: Trinity Knot, Celtic Love Knot, Claddagh, and more
Celtic Mythical Creatures, Fairies & Pixies, Banshees, Leprechauns and more
Exploring Celtic Culture Today in Scotland, Ireland, Wales, Cornwall, Isle of Man, Brittany, Galicia, and Asturias
And much, much more….
Learn all about Celtic history and mythology for kids with this audiobook.
---
To request this audiobook, complete the form below.
Click here to search for other audiobooks.
After listening, please rate each audiobook at Audible, and consider leaving a short review. Ratings and reviews help authors, narrators and audiobook listeners.