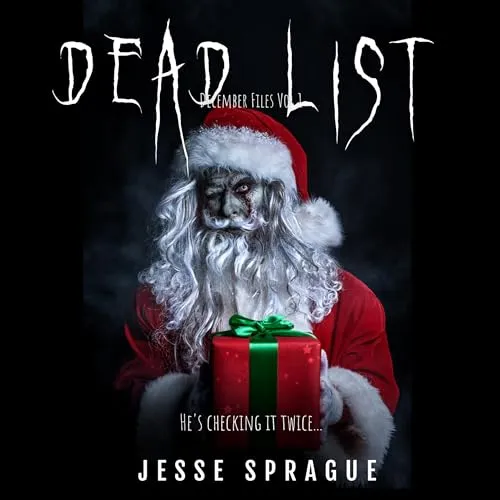 Written by Jesse Sprague
Narrated by Aylia Colwell
Duration 1 hour and 30 minutes
Santa's making a list
A Dead List
Dr. Harris' infamous psychiatric patient, Fiona, harbors some disturbing ideas about Christmas and Santa's lists: The Naughty List, the Nice List, and the Dead List. But when his twisted client requests he look at a few stories, Dr. Harris sees no harm in humoring her. One after another, he reads the stories and becomes increasingly disturbed by what he finds:
Too Much to Ask: Holly's job is killer. Even getting the day off for Christmas may end up being too much to ask.
Playing Santa: Naomi envisions a perfect Christmas for her children, but sometimes the harder we try, the worse things get.
Red Shoes: It's a dirty, dirty world and Starla simply wants to clean it up.
Previous Tenant: Some places are cursed. Maybe some people are too.
But the most gruesome story may be the one that Fiona and Dr. Harris are in the middle of acting out.
Listen to this collection of dark, disturbing, and delightful tales…if you dare!
WARNING: Includes horror elements which some listeners may find disturbing.
---
To request a code click on the button for US or UK region:
Click here to search for other audiobooks.
After listening, please rate each audiobook at Audible, and consider leaving a short review. Ratings and reviews help authors, narrators and audiobook listeners.