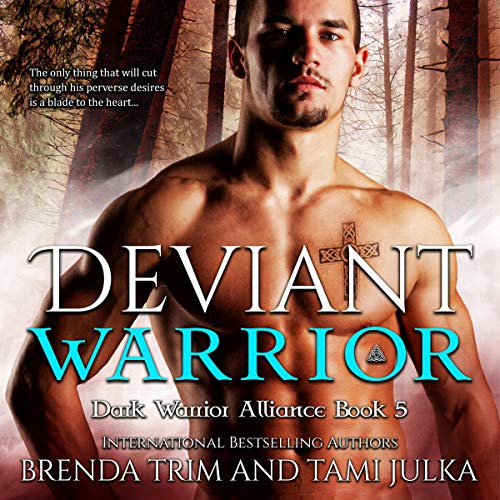 ** Reviewers Only **
This is a Review Priority giveaway. Please request a code only if you have a genuine intention to leave a review within a month.
Written by Brenda Trim, Tami Julka
Narrated by Alex Black
Duration 9 hours and 29 minutes
*Other titles in this series also available*
Of all the Dark Warriors, Kyran Tarakesh is the most aberrant. Having witnessed the brutal murder and rape of his mother seven centuries ago, his sexual preferences are twisted and perverse. He walks the razors edge of control and he likes it that way, until he loses that balance and accidentally kills one of his lovers. As second in line to the Vampire throne, he is precariously close to losing his position, not to mention the respect of his brother and fellow warriors. Just when he thinks it can't get any worse, the Goddess proves him wrong. With her wicked sense of humor, the Goddess catapults him to the dragon realm of Khoth with Mackendra Callaghan, the very human he has been lusting about for months since meeting her. Mackendra not only plunges a knife deep into his heart, she flees and fights him at every turn, inflaming his desires.
The surprises keep coming when he discovers she is his Fated Mate. Every belief he has ever had about intimacy is called into question when his mate gives him a taste of true pleasure for the first time. The passion that burns between them is hot enough to burn them to cinders, but he still must dispel her prejudices about vampires and break through her barriers or lose the other half of his soul forever.
Mackendra is the leader of a vigilante group that hunts and kills vampires. Sarcasm, snark, and weapons of titanium are the tools of her trade, and have shielded her hardened heart. When she is rescued from her burning house by a sexy stranger, she is propelled into an unfamiliar world. Her savior turns out to be a vampire of all things, and she doesn't take kindly to being stranded with the blood-sucker, much less teaming up with him in order to return to earth. She can handle her intense sexual attraction to him, but is terrified when it turns into emotional bonding. Her greatest problem is that she doesn't know how to let go of her past to accept her future. Will she rescue the blood-sucker that is slowly winning her heart?
WARNING: Includes graphic violence and explicit sexual content suitable for adults only.
NOTE: Other titles in this series also available (while codes last).
---
To request this audiobook, complete the form below.
Your promo code will display on the next screen.
Click here to search for other audiobooks.
After listening, please rate each audiobook at Audible, and consider leaving a short review. Ratings and reviews help authors, narrators and audiobook listeners.