Written by Golden Angel
Narrated by S. Kitten
Duration 35 hours and 47 minutes
*Entire Series* Books 1 to 4 (35+ hours)
*****
Book 1: Birching His Bride
(Scroll down for other audiobooks in this listing)
Lady Eleanor Petersham knows exactly what she wants from her marriage – a man who will worship at her feet.
Instead, her father marries her off to her brother's best friend, the devastatingly handsome, authoritative, and devilishly dominant Lord Edwin Hyde.
It doesn't matter that he makes her entire body tingle when he kisses her, or brings her to heights of pleasure she's never known, or how he disciplines her when she plays nasty tricks on him – like throwing a dinner party which only includes dishes with ingredients he despises – she's not willing to give up on her version of marriage without a fight.
Pain and pleasure struggle for dominance the same way husband and wife do in this relationship.
Book 2: Dealing With Discipline
(Scroll down for other audiobooks in this listing)
Eleanor Villiers, now Lady Hyde and originally a reluctant wife to Lord Edwin, has has fallen in love with her husband without the reassurance that he loves her back. It's literally the very situation she'd been desperate to avoid. Eleanor begins to try out various tactics to discover her husband's true feelings towards her, only to find she knows very little about love, and unfortunately, her antics somehow seem to constantly lead her into situations where disciplinary measures become necessary.
Meanwhile, Irene has married Eleanor's brother, Hugh Stanley, Viscount Petersham, even though she's in love with another man and has been since childhood. On their honeymoon to Hugh's estates, Irene finds her emotions becoming increasingly confused as she becomes more and more fond of her husband. Under his gentle care and approval, her true self begins to emerge, unfortunately leading to some unsafe behavior on her part which requires Hugh's immediate attention. He never wanted a rebellious wife who would need constant discipline, but he doesn't hesitate to mete it out when necessary.
The ladies struggle with their notions of love, the men struggle with the hot and cold temperaments of their wives, and all of them wonder what kind of conclusion their relationships are leading to. Can they make their marriages work?
Be warned: This audiobook contains hot scenes and seriously sexy alpha males who firmly believe in being the head of the household (as was the case during the Victorian time period).
Book 3: Punishing His Ward
(Scroll down for other audiobooks in this listing)
When Wesley Spencer, earl of Spencer, arrives in Bath, his first encounter with his new ward is out in the street, when she's supposed to be in his mother's home, where she's indecently dressed (to his mind), and obviously rushing to get home. His mother's letters had prepared him for a hoyden; what they hadn't prepared him for was the astonishingly beautiful and sensual young woman who surprised every one of his expectations once he'd disciplined her.
Cynthia Bryant loves to be told what not to do because it always gives her the best ideas for mischief. She knows better than to kiss rakes, flirt with gentleman, or touch herself between her legs (even in private), but she does all those things anyway because they're so much fun. Unfortunately, the earl isn't quite as easily put off as his mother – it seems like he's always watching her – and Cynthia finds a whole new area of exploration when she has the most shocking reaction to his spankings. She's also delighted to meet his friends Lord and Lady Hyde.
While in Bath, Edwin and Eleanor find themselves reconnecting in a way they couldn't in London, and their relationship takes a gentler, warmer turn. Unfortunately, Edwin still hasn't declared his feelings for her by the time she makes a life-altering discovery.
In London, Irene and Hugh have declared their love, but there's lingering tension with Lord Brooke, who seems to be on the verge of forcing a reconciliation with his estranged wife.
Be warned: This audiobook contains explicit erotic scenes, spankings, and some sexy alpha males who take their duties very seriously.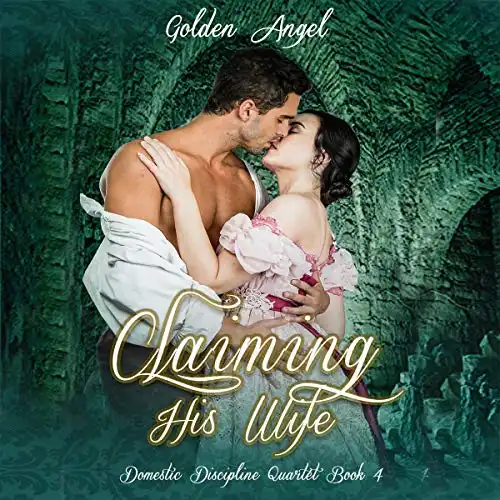 Book 4: Claiming His Wife
Alex has made a lot of mistakes, but he is determined to reconcile with his estranged wife, Grace. He's willing to put their past problems where he thinks they belong – in the past – but insults and disrespect will be met with discipline. He's seen the marriages his friends have, and decided to take a page from their books. Unfortunately for him, Grace is not so willing to let go of past hurts, although she has no choice but to go with him when he basically kidnaps her and takes her to Bath. At least her friends are there for moral support, while she does her best to discover exactly why her husband is so intent on reconciliation rather than divorce.
Hugh and Irene are blissfully happy, having declared their love for each other, but they seem to be the only ones. Eleanor is pregnant and worried that her condition will mean the end of overt affection and desire from her husband – especially as he hasn't declared any kind of finer feelings for her. She thinks Edwin doesn't realize she's with child, and worries over how to prod a declaration from him. Meanwhile, everyone is gathered in Bath for Wesley's wedding to the brazen and rebellious Cynthia.
When these four women get together, it's no wonder that both trouble and bright red bottoms loom on the horizon. Each of their husbands is bound and determined to claim and tame his willful wife. This audiobook contains adult situations, including spankings, whippings, backdoor play, and explicit scenes.
This audio book is rated sizzling!
WARNING: Includes explicit sexual content suitable for adults only.
To request codes for ALL FOUR AUDIOBOOKS in this listing click on the relevant US/UK buttons above.
---
Click here to search for other audiobooks.
After listening, please rate each audiobook at Audible, and consider leaving a short review. Ratings and reviews help authors, narrators and audiobook listeners.