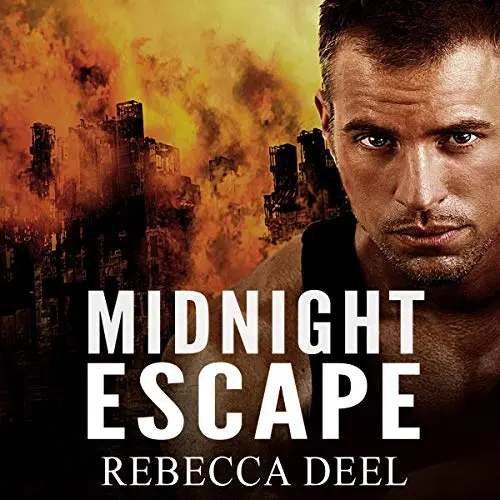 Written by Rebecca Deel
Narrated by Kristina Fuller Yuen
Duration 17 hours and 18 minutes
*Multiple Audiobooks* Books 1 to 2 (17+ hours)
*****
Book 1: Midnight Escape
(No US codes available)
(Scroll down for other audiobooks in this listing)
Saving her sister might require the ultimate sacrifice.
Brenna Mason's sister has been missing for more than a week. She failed Dana years before with disastrous consequences. She won't do it again. She's determined to find Dana and bring her home. But someone is just as determined to stop her. Within hours of her arrival in town, Brenna's life is threatened. As a writer, Brenna crafts killer sentences, but she doesn't have the skills to take on a real killer. To save Dana, her only hope is to team up with a man who has his own agenda.
As a former Navy SEAL, Eli Wolfe saw more than enough innocents slaughtered to populate his dreams with bloody ghosts. After his PI mentor is murdered, Eli hunts for the killer. What he finds is a woman with a mission bigger than his. But Brenna doesn't know that Eli asked Dana for a favor which might have led to her disappearance.
Working together to search for Brenna's sister, they discover connections to a human trafficking ring Eli and his SEAL team encountered a few years earlier. With only 48 hours until Dana is lost in the black underbelly of human trafficking, Eli and Brenna must rescue her before the deadline. When Brenna is kidnapped by the traffickers, Eli races to find both sisters before time runs out. For Eli, the stakes have never been higher. Now that he's fallen in love with Brenna, losing her might cost Eli his sanity and his life.
Book 2: Midnight Reckoning
Her sister was a world-class jewel thief. But she crossed the wrong person, and now, Sophie's baby may pay the price.
Sophie Valero has spent her life living down her last name. In a family of murderers, thieves, and con artists, she's the black sheep. As the owner of a legitimate business, the toughest challenge she faces is helping customers find the right herbal supplements to enhance their health.
But when she's attacked in her home, Sophie is given 72 hours to find what her sister stole. The price of failure? Her son's life. Since the retired cat burglar can't go to the local police, she turns to the one man who might help her. If he can forget she's a Valero.
Secret service agent Micah Winter stopped for a cup of coffee and left with a bullet in his leg. The gangbanger who shot him left in a body bag. Now, Micah is home on medical leave with a contract on his head. The last thing he wants is to protect a beautiful jewel thief. Yet, within minutes of seeing Sophie again, he has no choice but to offer his protection.
Micah and Sophie team up to locate the items her sister stole, while staying one step ahead of the gang determined to kill Micah and the local law committed to pinning jewel thefts on Sophie. Micah vows to neutralize the threats to Sophie because the federal agent has fallen hard for his cat burglar. But the deadline is hours away, and a killer is closer than he thinks.
To request codes for BOTH AUDIOBOOKS in this listing click on the relevant US/UK buttons above.
---
Click here to search for other audiobooks.
After listening, please rate each audiobook at Audible, and consider leaving a short review. Ratings and reviews help authors, narrators and audiobook listeners.