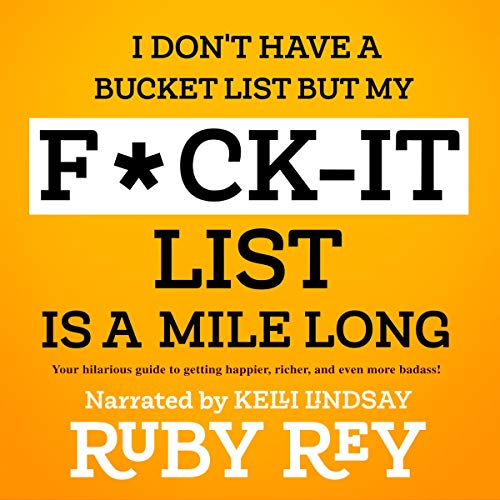 Written by Ruby Rey
Narrated by Kelli Lindsay
Duration 3 hours and 20 minutes
Ruby Rey is not your mother's life coach. She's one hilarious professional writer who has overcome her sucky genes to become happy, rich, and wise. If you're seeking motivation, you'll love Ruby Rey's fresh take on important topics such as:
Living the kind of amazing life you'd watch on the big screen
How to change your everyday habits
What the hell it means to "choose happiness"
Not being the prettiest, sexiest girl in the room and how that's an advantage
Ditching those frenemies – an alternative to hard work and luck
One weird trick for improving your mood every day
Do you like lists? This audiobook has lists! Plus, it includes Ruby Rey's real-life stories that are sometimes raw, frequently funny, and always honest and insightful.
There's something for everyone, from self-help newbies to the more advanced, who've "been there, done that" through all the basic stuff. What's different about this audiobook is how it's filtered through the keen eyes and witty mind of a professional writer who knows how to craft the entertainment you love.
Get ready to realign your mind, shake up your routine, and get back on track. Or just kick back and enjoy a few laughs. This collection of easy-to-follow life lessons may be a powerhouse, but it doesn't take itself too seriously.
---
To request a code click on the button for US or UK region:
Click here to search for other audiobooks.
After listening, please rate each audiobook at Audible, and consider leaving a short review. Ratings and reviews help authors, narrators and audiobook listeners.