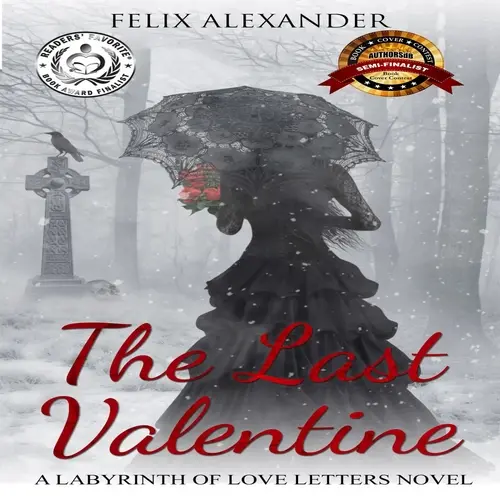 Written by Felix Alexander
Narrated by Chiquito Joaquim Crasto
Duration 16 hours and 12 minutes
*Multiple Audiobooks* Books 1 to 2 (16+ hours)
*Award-winning author* (Readers' Favorite Book Award Finalist 2018)
*****
Book 1: The Last Valentine
(Scroll down for other audiobooks in this listing)
When Olivia Villalobos finds a bloodstained love letter she endeavors to deliver it before Chief Inspector Sedeño finds it in her possession.
A city along the southern coast of Puerto Rico emerges in the aftermath of the Spanish-American War. Olivia, daughter of a drunkard police investigator who never knew the truth behind her mother's disappearance, finds a bloodstained love letter in the hidden compartment of her father's coat. Convinced it belonged to the man recently found dead she sets out to deliver it to the Labyrinth of Love Letters – a mysterious place believed to be an urban legend where the transients of forbidden love leave missives for one another. She enlists the help of Isaac Quintero to find the Labyrinth and they soon realize their quest has opened the door into Old Sienna's darkest secrets – the perils, madness, and depth of tragic love.
Book 2: The Last Love Letter
(No US codes available)
"What if you were the one?"
With those words, Arabella España is lured into a tale of forbidden love and forgotten secrets.
In the wake of a murder in 1950's Puerto Rico, nationalists revolt against American colonialism. An amnesiac recluse, married to a man she does not love, Arabella finds solace in the only remaining book in her possession. One of the many banned by Puerto Rico's Gag Law.
The mysterious novel entitled The Last Love Letter by one Aurelio Valentino leads Arabella on a journey with the main character in search of his lost love. But as she delves deeper into the story, she makes a shocking discovery: The novel contains clues to finding the legendary Labyrinth of Love Letters. A place of love and myth linked to the letter stolen from the corpse of the man who had recently been killed.
As each page draws Aurelio and Arabella closer together, she anxiously searches for the love letter that will reveal the identity of Aurelio's lost love. In her endeavor to find the labyrinth, she discovers that the murder is a fate tied closely to her own destiny.
Soon, Arabella's literary journey reveals memories of her forgotten past, and she discovers what happens when the main character of the story falls in love with the reader.
To request codes for BOTH AUDIOBOOKS in this listing click on the relevant US/UK buttons above.
---
Click here to search for other audiobooks.
After listening, please rate each audiobook at Audible, and consider leaving a short review. Ratings and reviews help authors, narrators and audiobook listeners.