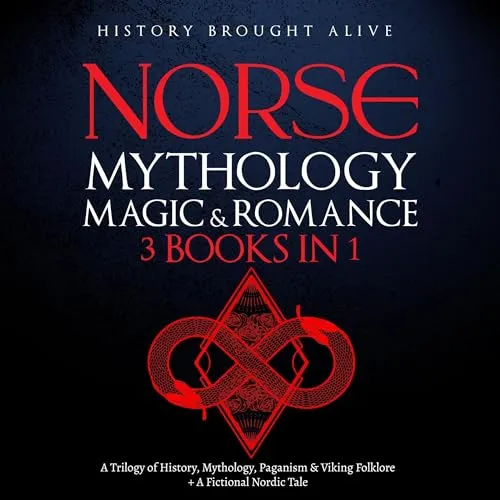 ** Reviewers Only **
This is a Review Priority giveaway. Please request a code only if you have a genuine intention to leave a review within a month.
Written by History Brought Alive
Narrated by Theodore Rose, Alaura Howery
Duration 9 hours and 12 minutes
*3 books in one audiobook*
Explore the Magical World of Norse Mythology, Paganism, and Romance
Join us as we enter the Ancient Norse Realms, and journey into a captivating world of gods and goddesses, mythical creatures, and legendary heroes.
Included in this captivating three-audiobook collection are:
Norse Paganism for Beginners: Explore The History of The Old Norse Religion
Norse Mythology Legends: Epic Stories, Quests, Myths & More
The Völva's Apprentice: A Norse Fiction Story of Magic, Mythology & Romance
Book 1 provides listeners with a comprehensive understanding of Norse Paganism, its history, beliefs, people, and what it looks like in our modern world. This book has been written using a variety of scholarly articles and books containing translations of the few existing original texts of the Norse people.
Book 2 takes listeners on a journey through the mythical stories of the Norse gods, including epic tales such as The Aesir-Vanir War, Thor, Loki and Valhalla, among others. The book also provides a brief history of Norse Mythology and uncovers the history & beliefs of Ásatrú, the ancient religion of the Vikings.
Also in this three-book collection, you will find:
The Völva's Apprentice: A Norse Fiction Story of Magic, Mythology & Romance
In the realms of Norse Mythology, a girl sets out to avenge her village, only to meet a powerful teacher on her journey into the abyss of forbidden knowledge.
With this bundle of three audiobooks, listeners will be transported into a world of mythology, magic, stories, adventures, and much more.
Begin Your Quest Into Norse Mythology, Paganism, and Its Legendary Characters with Three-Audiobook Collection!
---
To request this audiobook, complete the form below.
Click here to search for other audiobooks.
After listening, please rate each audiobook at Audible, and consider leaving a short review. Ratings and reviews help authors, narrators and audiobook listeners.