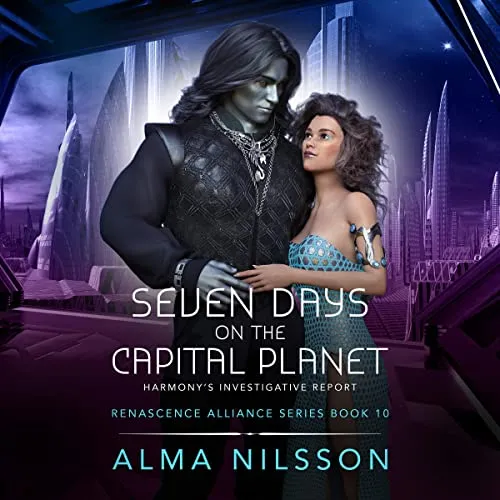 Written by Alma Nilsson
Narrated by Jill Smith
Duration 7 hours and 19 minutes
*Other titles in this series also available*
AN ALIEN EMPIRE. AN INVESTIGATIVE JOURNALIST DETERMINED TO EXPOSE THE TRUTH. A LOVE DESTINED BY THE GODS.
With Earth now ruled by the restrictive and archaic Alliance Empire, people are relying on me to uncover the truth about our alien sovereigns.
I can't pass up the personal invitation from the Empress to tour the Capital City.
After a titillating journey to the other side of the galaxy, I arrive in time to witness the severe punishments meted out by our rulers.
It's a stark reminder of why I don't think humans should be part of the Empire.
Yet almost immediately, my ability to remain impassive gets tested by the alien man sent to be my guide…
The handsome and virile Captain Lon.
Sparks fly, but before our attraction can ignite into something forbidden, I'm kidnapped by forces determined to use me to achieve their goals.
If I can't escape, I will become another martyr for human civilization.
But my rescue comes in the form of the grey-skinned alien I've been dreaming about.
Only nothing is as it appears.
And the truth will change my future forever.
Enjoy this explicit, steamy, and suspenseful alien sci-fi romance, featuring a feisty human journalist, an alien officer, and a world where their attraction could be their downfall.
WARNING: Includes explicit sexual content suitable for adults only.
NOTE: Other titles in this series also available (while codes last).
---
To request a code click on the button for US or UK region:
Click here to search for other audiobooks.
After listening, please rate each audiobook at Audible, and consider leaving a short review. Ratings and reviews help authors, narrators and audiobook listeners.